As the saying goes, 'Go Nuts To Age Well', here at All About Seniors we present to you a super delicious and super healthy smoothie recipe.
Almonds keep your heart healthy and happy, prevents age related weight-gain, helps manage diabetes and ease aching joints.
Know your Diabetes better. Read here…..
On the other hand Bananas are a rich source of all vital nutrients. They promote healthy blood pressure, regulate heart rate, alleviate anxiety and depression.
What's better than treating some of the most experienced aging issues while sipping a deli smoothie.
Most of us prefer to start our morning with a drink to provide us with instant energy. And nearly all of us depend on caffeinated drinks to rid ourselves from the morning fatigue. Right? How about a healthy and tasty beverage to kick start your mornings? We bring you a super simple recipe that is full of health and taste. All you need is 10 minutes to boost yourself with instant energy!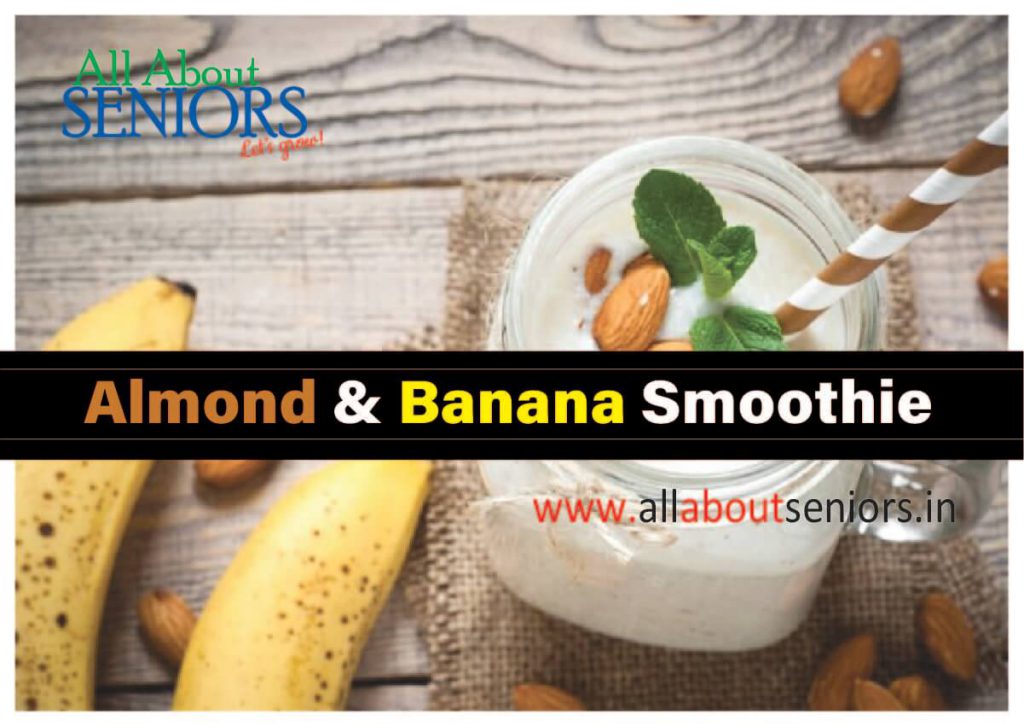 Ingredients:
4 Tablespoons de-skinned and blanched almonds (Badam)
1 and ½ cup chilled milk
1 cup chopped Bananas
2 Tablespoons sugar
½ Tablespoon vanilla essence
8 ice cubes
Natural sources are always been proved better than artificial delicacies. Here's how you can keep your good health on track by simple Naturopathy.
Preparation:
Mix bananas, almonds and ½ cup of chilled milk.
Blend them all in a mixer till it gets smooth and frothy.
Now add some sugar.
Put the remaining milk into the mixer with vanilla essence and 8 ice cubes.
Blend the liquid again till it becomes frothy and smooth.
Pour smoothie equally into 4 individual glasses.
Serve immediately.
Come on, wait are you waiting for ! Grab on your cooking hats and indulge yourself in some healthy and delicious smoothie making.
Here's the story of a 2nd Innings real life hero who kept himself all occupied and active in work and proved that age is just a number.
We hope this healthy smoothie makes your morning more refreshing and energetic. Enjoy!

Do you have an interesting, healthy morning drink recipe that you would like to share? Mail the recipe, listing the ingredients and preparation method to us on life@allaboutseniors.in and we will feature it on your favorite website All About Seniors!
Life throws all sorts of challenges at us, but how gracefully late Mrs. Sheila Dikshit faced them is a story to be inspired from. Read here….

Source: www.tarladalal.com
healthy recipe, healthy smoothie, All About Seniors, manage diabetes, morning drink recipe