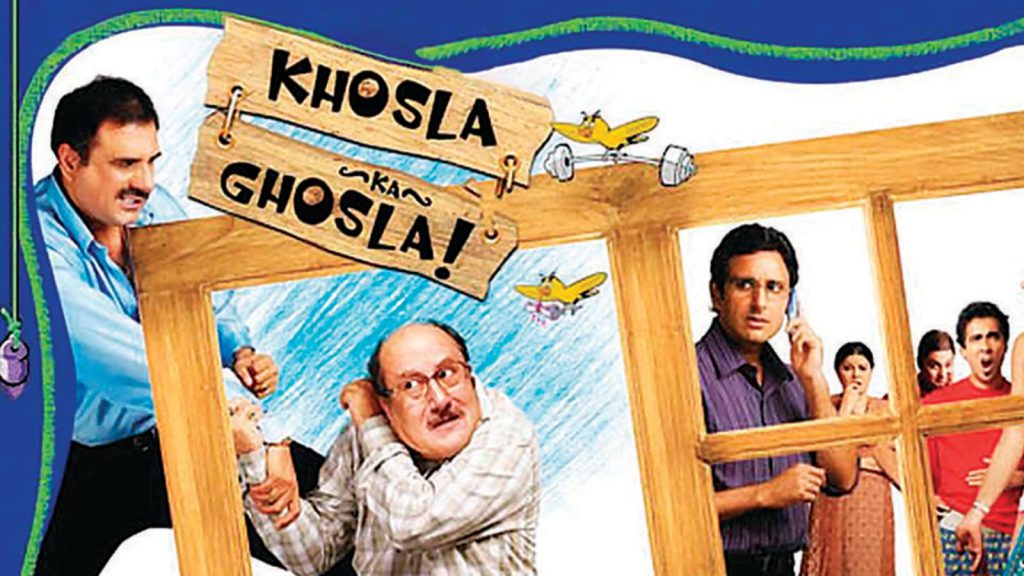 While sipping morning tea and reading the cringe-worthy news of innocent people being duped out of their lifetime savings, haven't we sometimes felt tempted to take revenge on these double-dealing, unscrupulous dealers? Well, if not in real life, it happens in reel life – in super comedy Khosla ka Ghosla.
Featuring some of the finest actors of the industry like Anupam Kher and Boman Irani, Khosla ka Ghosla revolves around the story of a simpleton who hatches various whacky plans to grab his property.
Are you a movies lover? PVR takes care of all your movie cravings because being a senior also makes you special.
With unique and relatable characters, gripping turns, and subtle comedy, Khosla Ka Ghosla is every bit engaging. The movie is a light-hearted family comedy that deals with a serious topic of property scams in a mature yet humorous way.
The story
KK Khosla (Anupam Kher) is an average middle-class man, timid and meek, who lives with his wife and three children in Delhi. Like many people of his age, he too holds close the dream of staying in a grand south facing apartment after his retirement. Every paisa that he had saved in his lifetime is invested by him in a property which is usurped by a property dealer Khurana (Boman Irani). The movie revolves around how KK Khosla and his family try to reclaim the property back from Khurana.
Trivia
The movie has an IMDB rating of 8.4

It was nominated for "The best movie" in Bombay International Film Festival

The director Dibakar Banerjee has directed many popular movies like "Oye Lucky! Lucky Oye!" and "Detective Byomkesh Bakshy".

The movie has actors like Ranveer Shorey and Vinay Pathak, both known for stellar comic roles.
An important takeaway from the movie is – Not all of us may be able to come up with ruses to recover the losses we face. So, it is of utmost importance that before handing over any payment, we are completely sure about the dealings we are making.
Just like KK Khosla, here's the inspiring story of Late Mrs. Sheila Dikshit, a real-life hero who gracefully accepted the challenges of life and overcame them.
You can purchase the DVD from Amazon or Flipkart