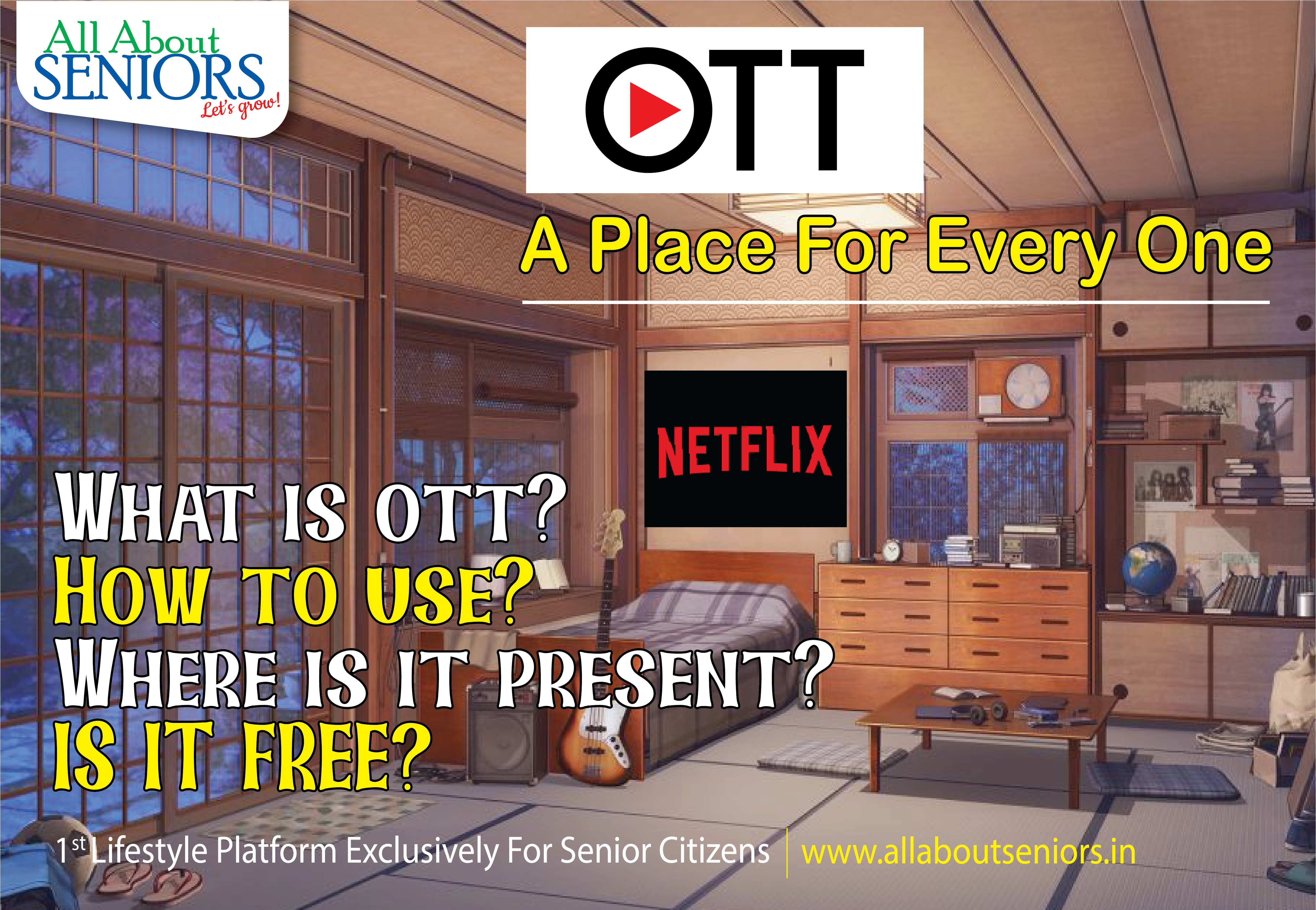 OTT, a term that is so much in use these days. So we at All About Seniors felt the need to make it simple for all our loved seniors out there. Let's grow with technology and right knowledge.
All of us are attached to the cord of steaming revolution in some or the other manner. Many must have experienced a time when only a handful of TV networks were there. Families used to share TV and it was meant to be a family activity most of the time. Then came cable television followed by the birth of the internet.
With this, the way movies, shows, matches, or any other type of live or created content is delivered, changed. This way is called OTT.
What is OTT
OTT is an acronym for "Over The Top". Any content streaming that is delivered using the internet is called OTT. An OTT platform is a platform that delivers content using the internet.
Journey of OTT platforms in India
OTT got introduced in India in 2008! Yes. Reliance launched BIGFlix which became the first OTT platform in India. Then nexGTv changed the way live streaming happened in India by launching the first app to stream Indian Premier League matches on smartphones. This happened in 2013-2014. Hotstar took the flight from there and won the rights for IPL in 2015.
There was no looking back then. Indian Premier League, streamed lived on every smartphone. Just download the app and subscribe to the content you want to see. Now every channel had to be on OTT ..so the trend started and today, in 2022, we have an OTT platform by almost every leading content creator. Sony, Tata, Star.
The sale of smartphones directly lead to the popularity of the OTT platforms.
This also pushed the TV sets to be updated and become smart Televisions. Just plug the internet into it and you are ready to enjoy whatever you want to.
Corona outbreak pushed the popularity of the OTT platform across all hardware products. From the time of our dependency on the cable operator for connections and services, OTT has brought independence to our lives through just a mere subscription.
What
all can be experienced on the OTT Platform
Over the top(OTT), a service that provides viewers access to all the entertainment that's there in the world through just a subscription. One just needs to download the OTT platform you want to see and enjoy different kinds of content there. It can be live entertainment like music shows or cricket matches or the latest movies. Not only this, music, mythology, soaps, fiction..all kind of content is available to choose from. 
Once you dive in here, there is no looking back as it offers you everything according to your mood.
No wonder why kids are always with their smartphone.
This does not mean the elderly can't. You just need to check it out and then, be assured, you too will get stick to the platform.
The freedom to choose the latest movie or the movie you always wanted to see, you have it all.
Some of many OTT platform
Amazon Prime, Disney Hotstar, Netflix, and Voot are popular platforms where people give their restful hours.
All of these platforms have shows, series, live telecasts, new movies, old movies, and much more in their platform.
How to subscribe?
Simple, the way you pay your cable operator before the month begins, the same way you choose your favorite package of the month or even a year. This is a subscription that is accepted as of the fact that you like this entertainment OTT app or giving it a try and paid in advance.
Is some entertainment stuff for free?
In a world where we have to pay for everything, even if it's the purified air that we want, OTT provides you free entertainment Yes! There is content on these platforms which are free, but some require you to pay. Free platforms cost you nothing but a nice connection of Wifi, or your own personal mobile data on your android phone or smart TV.
Jio Cinema, Hotstar, and Prime Amazon have many series and movies for free,so enjoy it if your pocket is not ready this month.
How to enjoy OTT Platforms?
Smart Phone, Smart TV, or laptop is important to have access to the OTT platform. The reason is that you can enjoy OTT only where there is the internet. 
Process of accessing OTT platform: –
Every OTT platform has its own app in the google store. Download the app which has the best option of entertainment for you. Enjoy it free or get the subscription through any payment method you are feasible with. Keep your password safe with you.
If you want to have the services of OTT in your Television then get a smart tv with installed OTT platforms. 
Few more features of these OTT platforms
After subscription, you can share your password of subscription with at least 3 of your loved ones. Isn't it a steal deal?
Movies and TV shows always contain a brief introduction to make you acquainted with what you are going to watch so yes explore.
For complaints, OTT platforms have their own regulatory body with eminent persons like the supreme court and high court judges in its body.
Special guidelines and restrictions for children who are below 18 years. This makes these platforms little secured.
Want to get the subscription, here's an easy way
First of course get an android and get these platform apps in your phone or you can enjoy it in your home if you have a smart tv with these apps installed.
You will find their subscription option with affordable offers. choose what suits you and pay with whatever method makes you comfortable.
You may be offered to use their subscription on 2 other devices for your convenience with your personal password. Share it if you want to with your other friends.
How much does an OTT subscription cost?
As of May 13, 2022 Packages for amazon prime, Disney Hotstar, and Netflix packages are –
Amazon Prime – Rs. 179 for a month and Rs. 1,499 for a year
Disney Hotstar – offering Rs 99 Disney+ Hotstar Mobile subscription for Rs 99 per month. Rs. 899 for a year.
First-month trial free.

Netflix – Rs 199/month mobile-only subscription plan, Rs. 2,388 for a year.
Done with the payment headache for months now you are ready to enjoy your favorite things.