One of the most crucial indicators of someone's potential to live independently is their ability to walk without help. Walking is a fantastic way to get moving and increase your physical activity in your daily routine; it's simple, energizing, free, and easy on your joints. When you see the elderly peeps are more likely to get around the house on their own and execute activities, you can appreciate the Importance of morning walk!
It is critical for older adults to be physically active as they age since there are several mental and physical health benefits of morning walk for elderly.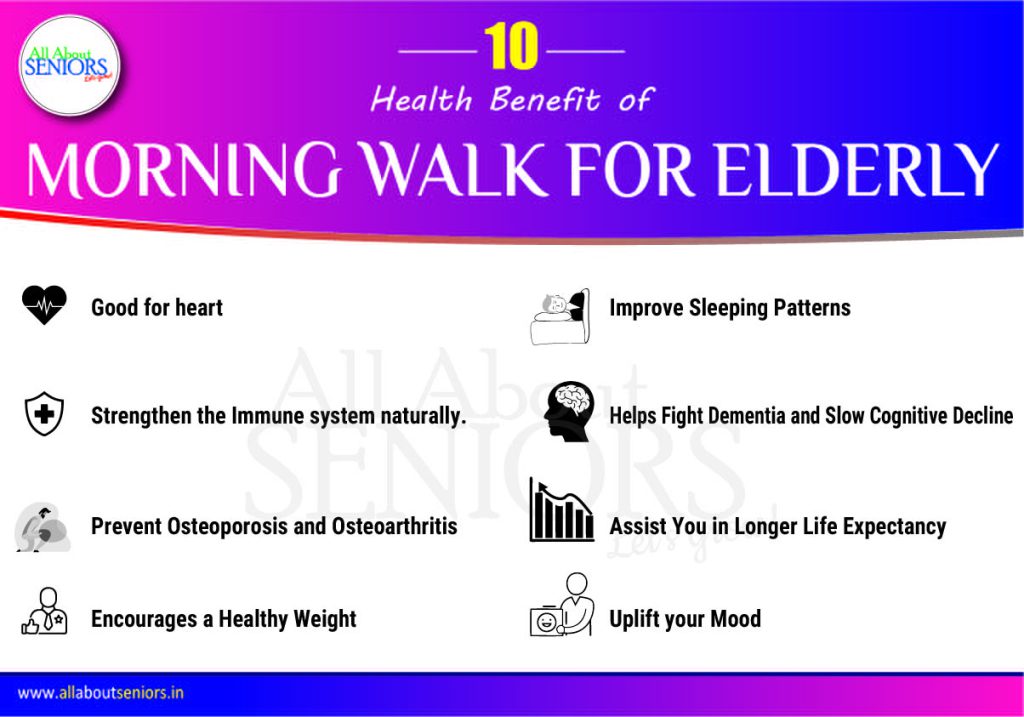 Continue reading to gather more information on the advantages of morning walk. If you want a customized plan for your parents' needs or want to know what are the benefits of morning walk? You can book an appointment with a doctor right now using the I Elderly Care platform.
What Are The Benefits Of Morning Walk?
The health benefits of morning walk for elderly include
Good for heart
Various advantages of morning walk include lowering of blood pressure, help improve circulation and avoid cardiovascular symptoms. Indeed, major research from Boulder University and the University of Tennessee has found that walking a few kilometres a day can help older women lower their blood pressure and minimize their risk of stroke.
Strengthen the Immune system naturally.
Morning walk for elderly is a healthy way to strengthen their immune system. Those who walk for 20 minutes five days a week have fewer chances of getting sick. Walking has been shown to reduce your risk of chronic disease, including several types of cancer.
Prevent Osteoporosis and Osteoarthritis
Benefits of morning walk include a full-body workout that helps in strengthening muscles, bones, and joints all at once. Walking is a good way to lubricate your joints, which must function properly regularly. Walking strengthens your bones and muscles at the same time. Regular walks help prevent bone loss during osteoporosis, reduce the risk of hip fractures, and significantly reduce arthritic pain (Osteoarthritis).
Encourages a Healthy Weight
One of the major Importance of morning walk is that it can help you lose weight. Calories are burnt, which aids weight loss. The advantages of morning walk are significant since walking reduces the chance of developing a serious condition and improves one's health. Morning walk is a step in the direction of a healthier body.
Improve Sleeping Patterns
The body must be properly exercised to sleep well, and the individual will have no problem sleeping. At least according to a study conducted by Seattle's Fred Hutchinson Cancer Research Center. Studies have found that women aged 50 to 75 who walk every day are significantly less likely to suffer from insomnia than those who do not.
Getting up early and going for a walk in the morning gives the day a good start. When health services are available at home, the day passes swiftly with the caretaker's assistance and time with the family. So why wait for more? Book health services with I Elderly Care right now!
Helps Fight Dementia and Slow Cognitive Decline
Morning walk for elderly is important for older individuals to maintain mental sharpness. With aging comes an increased chance of dementia or Alzheimer's disease. Both of these diseases are incurable and irreversible. According to studies conducted at San Francisco University in California and Virginia University, women and men who walk a quarter of a mile had half the risk of Alzheimer's or dementia.
A morning walk can also help to reduce the risk of Alzheimer's disease. If the brain receives more blood, it remains more active. Furthermore, if it remains more active, the chance of Alzheimer's disease is considerably reduced.
Assist You in Longer Life Expectancy
An early morning walk has a significant benefit in terms of extending one's life. Walking is the least complete kind of physical activity. It does everything it can to keep the blood flowing and the muscles and bones engaged. According to research from the University of Michigan Medical School, people in their 50s and 60s who exercised regularly, including walking, had a 35 percent lower risk of dying during eight years.
Uplift your Mood
A morning walk may be an effective way to improve your mental health and well-being. Morning walks are important, according to doctors, since endorphin generation is the first thing that keeps a person going during the day.
Long Beach State University researchers discovered a significant relationship between walking and mood. In a nutshell, the more positive a person's attitude and viewpoint are daily, the better. One possible reason for the link is that walking naturally produces endorphins and improves circulatory respiration, both of which create pleasurable emotional benefits. This is especially beneficial for the elderly since it prepares them for the day and gets them off to a good start.
Reduces Diabetes Risk
Diabetes is increasingly becoming one of the most common lifestyle diseases. However, if you go for a morning walk, you can overcome this metabolic state.
A 30-minute morning workout can help with Type II diabetes blood sugar management and insulin therapy. Muscle cells may consume more glucose, which aids in the burning of excess body fat and improved body mass index (BMI). People with diabetes will benefit greatly from this.
Encourage social links
As you go down the block, you'll be far more likely to meet new people. In any case, studies have consistently demonstrated the enormous social benefits of the elderly's mental and physical well-being.
Importance of morning walk
Walking may enhance your health and well-being while allowing you to live freely for longer periods. If you've been inactive for a while or your parents haven't been active in a bit, talk to your doctor or your affiliated health care provider.
To make your parents understand what are the benefits of morning walk? You may book a range of home care services and doctors through the I Elders Care platform and make your parents feel more connected and engaged.