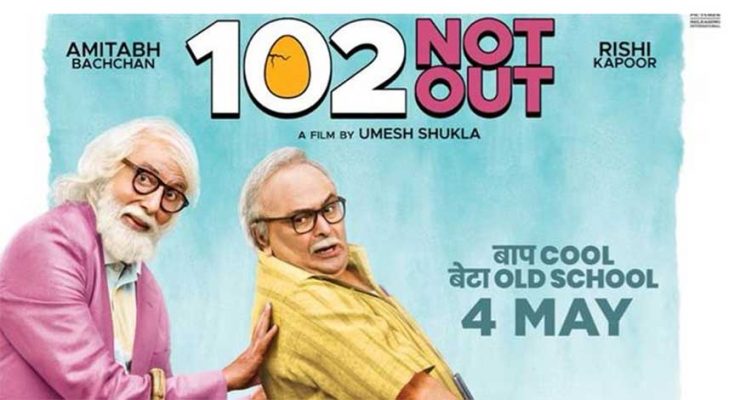 Do you feel you belong to old school and in case you feel uncomfortable about it..it's time to check this out!
This movie will change the way you look at yourself…because it is 102 not out !!
Movie Plot
Dattatraya Vakharia (Amitabh Bachchan) 102 years old decides to send his 75-year-old son Babulal (Rishi Kapoor) to an old-age home. The reason being, Babulal's almost melancholic outlook towards life will interfere in his way to break the world record of the longest living human presently held by a Chinese man. Interesting ..isn't it!
Released in year 2018, the movie showcased a freshly brewed script in the Bollywood industry. Its plot is its strength. Though like every other Bollywood movie, this movie also shows a relationship at its core but this time its between two people aged 102 years and 75 years. The story is delivered through three characters only – Dattatraya, (Amitabh Bachchan), the 102-year-old father, Babu (Rishi Kapoor), the 75 year old son and Dhiru (Jimit Trivedi).
"Zinda hai tab tak marna nahi hai"

Oh yes! Isn't the above statement right? The movie gives you lines that will leave you inspired and questions your perspective of living your life.
So go watch the movie and have all the fun because " Zinda hai tab tak marna nahi hai"!
However, how can an Indian Bollywood movie, filled with relationships be produced without the element of emotional tussles? The quirky father-son tussle quickly lapses into the familiar emotional theme empty nest syndrome, the loneliness of old age, and shows uncaring, selfish, and greedy NRI kids.
While the biggest highlight of this movie would definitely be the acting of the two legendary superstars of the Bollywood industry, it also breaks the barriers of the age-old perspective of seniors in our country. Dattatraya is one older adult who has an aim to become the longest-living person on this planet. Whereas, his own son depicts the boring and giving up the side of an older adult. Dattatraya being focused on what he wants makes sure that every negativity is away from him which includes his own son.

This plotline heading with tassels along with comedy is so refreshing to watch that once you watch it you would definitely want to have an aim in your life.
This movie is must to see with the family and at the end of the show, a pampering lunch or dinner with the family can add sparkles to your lockdown.
With the hope that Living legend Amitabh Bachan goes on to be the longest living senior on this planet, All About Seniors team bid goodbye to Bollywood heart-throb Rishi Kapoor with teary eyes.
Rishi Sir, what an inspiration you were..you continued to embrace life till the last moment.
Do let us know your views about the movie and also, check some interesting tribute written by seniors for Rishi Kapoor.