Cherishing each and every moment of the life is the best cushion of comfort and happiness as you are in your second innings. These two words- 'Second Innings' says it all. These years are God's best gift where in we can live again for ourselves. Everybody says it and all you silvers would have heard it several times from us and others. But the reason we mentioning it is the fact that there is a senior society in Noida which have set an example of living again for themselves in their second innings. Each and every silver has a positive aura which makes them way too young and lively than anyone in their youth.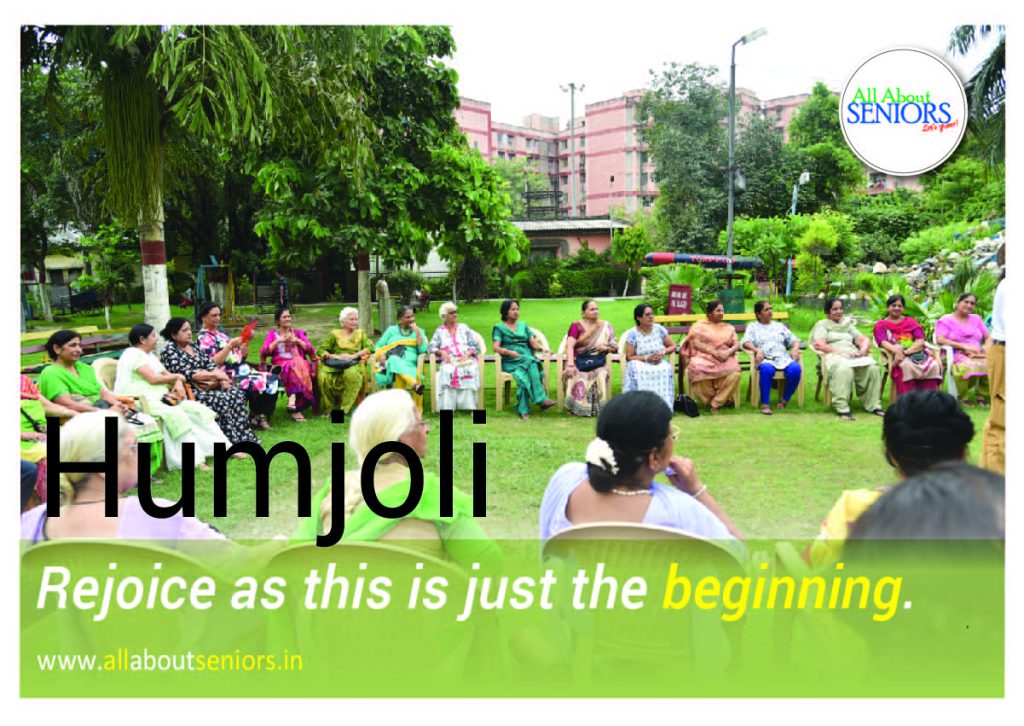 'Humjoli' is a monthly event which is organized at Shivaji Park, Jalvayu Vihar, Sector 21, Noida where this merry group of silvers socialize by playing games, having inspirational talks, celebrating festival and lots more. This event which is organised on every second Wednesday each month is an initiative started by Meena Vohra who gave a reason to all to live and rejoice their golden years. Humjoli is now a legacy which is now a monthly festival in itself, 'A unique festival for silvers.' Mrs Vohra and her friends Priya, Kanta, Veena, Deepak and Indu felt there was a need for community support and Humjoli was born.Mrs Vohra and her friends Priya, Kanta, Veena, Deepak and Indu felt there was a need for community support and Humjoli was born. The society which currently comprises of more than 100 members is thankful to ceramic artist Ms.Vohra for gifting senior hood this festival.
Playmate or a Friend is what the name 'Humjoli' says and it is indeed true as this month's festival proved. Shivaji Park and the area surrounding was full of positive vibes on 12th October evening after 5pm. As festivity is in the air and we just celebrated Navratri and Dussehra, one could experience that festive air in the park as well due to Humjoli's monthly legacy in October. The senior citizens of the seemed to have more fun with great gusto than the younger ones in the whole sector 21 combined. The event started with a small spiritual talk and the beautifully sung power prayer by Ms. Parul. There couldn't have been a better start to the event than those short,enlightening and inspirational words by her on how we can find peace in the laps of almighty.
Watching out health this festive season is a must. We all go with the flow in this festive mood and our bodies are affected as we adopt unhealthy eating habits. To put some light on the same, followed by the spiritual talk was Ms.Himanshu Kapoor, a well known nutritionist and founder of C Green. Be it having a lemon shot after too much intake of sweets or even better, preferring 'Gud' over sugar, she gave the perfect suggestions to have a healthy living even in this 'Parv' mood. If you are interested in knowing more eating tips which Ms.Himanshu Kapoor spread awareness on to the silvers then subscribe for our magazine by going on the link on the top right on the website's home page.
Playing builds the kind of free-and-easy, try-it-out and do-it-yourself kind of character in silvers which is a must at this age. So, to build that character, Humjoli members played several fun games after the talks by Ms. Parul and Ms.Himanshu. An unique Dum Charades cum Antakshari game was the essence of this gaming section. As one team acted mime, the other one was supposed to sing that old bollywood song after guessing. The winning team was given prizes as well.
Last but definitely not the least was the perfect end to the Humjoli event. One could all relive the Navratri as the 'young at heart' ladies of the society gave a beautiful dandiya performance. Dandiya by them was a such a treat to watch that it rejuvenated the spirits of all the people present in the part. The ladies were the perfect example of rejoicing these golden years. The event ended in an amazing note with their performance.
So, 'Lets Grow' gracefully taking Humjoli as an exquisite inspiration.!!