November is an ethnic and exquisite month for Delhi-ties as it marks the mega festival of India International Trade Fair every year. Ever since its inception in the year 1980, it has been a mega attraction for shopaholics as businessmen present their wide variety of products and ethnic specialities at the fair. Organised by the nodal promotion agency of Government of India, ITPO (India Trade Promotion Organisation), this event which takes place from 14-27 every November turning out to be a common platform for manufactures, traders, exporters and importers.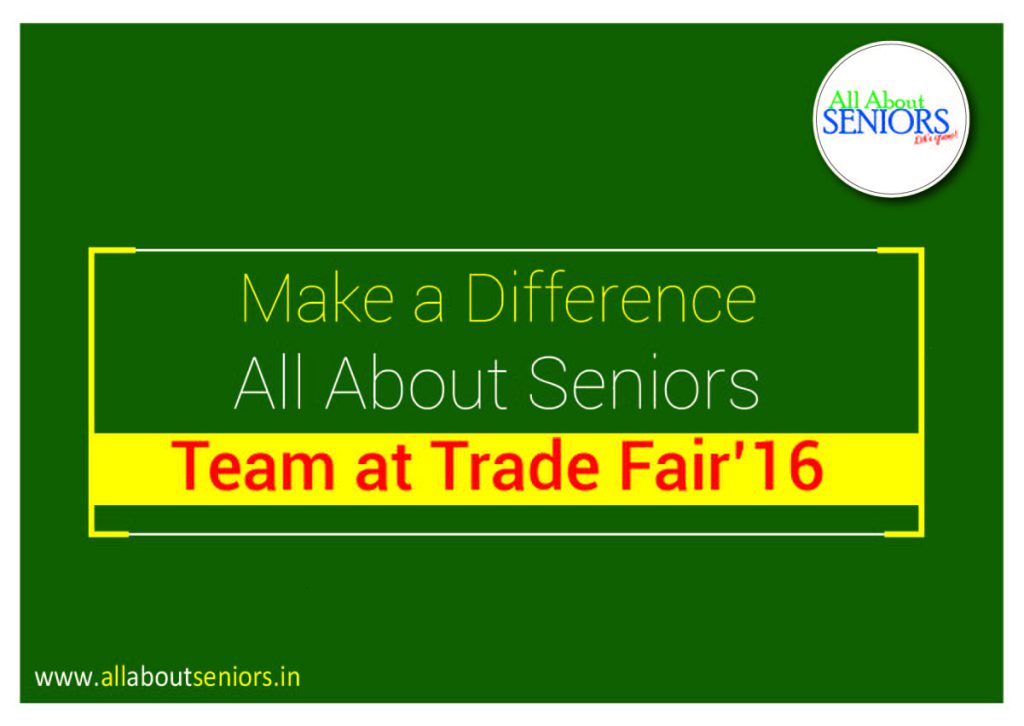 All About Seniors and its parent company, Maatti Design used this great opportunity to show its unique design capabilities and we, the AAS team made a difference by sensitizing all on how seniors are an integral and special part of everyone's life. All About Seniors shined gracefully at Stall No. 25 in Hall No. 7(FGH) which was by MSME( Ministry of Small and Medium Enterprises) where the quarterly and annual subscriptions were given for 20% off. The visitors were sensitized about the importance of seniors as we did put light about India's first lifestyle magazine for seniors. Everyone was grabbing this unique gift for their beloved senior. Be it an infant or a small kid of a young man, they part their parents or grandparents play in their lives is so special and beautiful. We tried to make it a point that every person out their realises this and for the same, we made planks saying how we can serve them by becoming a geriatrician if anyone aspires to grow up to be a doctor, or by simply accepting the fact that seniors should be duly respected. Grandparents are God's best gift to every kid and this is why kids cherished the experience of holding planks which said how important and amazing part they play in their lives. While kids were busy showing all how much they love their grandparents, seniors were ecstatic as they felt special as All About Seniors promised to be their companion in this second innings.
We feel great that God gave us an opportunity to reach masses at 36th Edition of IITF and express our gratitude towards silvers. We have an amazing feeling of contentment and satisfaction after listening from all the lovely silvers out there, "Let's Grow as it's All About Senior". After all, what can be better than making the ones who grew up with tender and care feel special and respected?