With a house full of asthma medicines and a detailed knowledge of allopathy, Mr. Mohan Gupta had tried everything to cure his chronic asthma. Then one day, he chanced upon his future mentor and Guru, Acharya Seshadri Swaminathan and he was convinced that the chronic asthma could be cured by adopting the principles of naturopathy.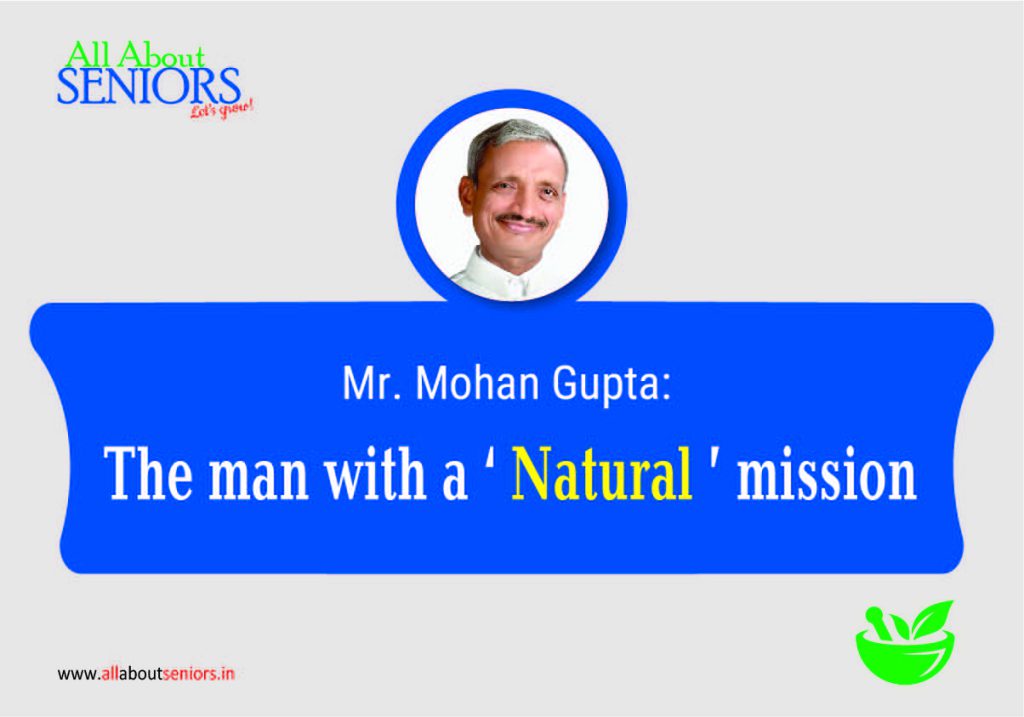 "I was able to quit taking asthma medicines altogether, within three months of following naturopathy," Mr Gupta revealed. So convinced he was that he made it his mission to educate the masses about a drugless way of life, and encourage them to adopt natural methods of living. Thus began his second innings of life.
In 2006, Mr. Gupta established the Natural Life Style School of Naturopathy in Delhi to give shape to his mentor's desire. The school is a not-for-profit venture which teaches people the art of being fit by eating right and adopting natural practices. Mr. Gupta is also a member of the Delhi State Government Advisory Board of Naturopathy & Yoga (AYUSH) and the Advisory Board of International Naturopathy Organization (INO).
The naturopathic way: (design in a box and put in corner)
Mr Gupta believes that naturopathy is a way of life and not an alternative curative system.
Naturopathy is based on the premise that the cause of all diseases is the same, that is, the build-up of toxins. The toxins can be removed by Eating right, Sun bath, Air bath, Pranayama and Spinal tub bath.
Eating natural fruits and vegetables is at the heart of Naturopathy. All ailments can be cured if one learns to eat right.
Naturopathy is a lifestyle. Its practices and philosophies need to be incorporated in day-to-day life. Mr. Gupta conducts classes every Sunday and organises monthly residential camps to educate people about this practice.
Working tirelessly
"Umar ka badhna toh dastoor-e-jahan hai. Agar na socho toh budhapa kahan hai."
Mr. Gupta knows no respite! After the age of 45, he completed a Diploma and Masters in Naturopathy. Presently, he is working towards a doctorate in the subject! He has authored two books and is also the chief editor of his monthly magazine Natural Life Style.
Every Sunday, the Natural Life Style team organises a free session to educate people about naturopathy. Along with regular consultation sessions on relationship and health, Mr. Gupta and his dedicated team also organise a 4-day camp every month.

Mr. Gupta starts his day at 5 a.m. and pursues his passion, Natural Life Style till 4 p.m. The rest of the time is devoted to his business, the earnings of which are utilised for Natural Life Style. For the past 17 years, he has lived his life on naturopathic principles. The practice of yoga every day and the consumption of seasonal fruits and vegetables gives him the energy and vitality for all his activities.
The contributively spirit
"What we are returning is very less considering what we have received."
About 20,000 people have experienced the benefits of naturopathy practices taught by Natural Life Style. People have been able to cure critical diseases like asthma, kidney stones, diabetes, hypertension, PCOD, arthritis, gall bladder stones and nephrotic syndrome.
"If we view our life as inescapable work, then we will not be able to lead a joyful stress-free life. If it is viewed as a game, then we can manage everything effortlessly."
Mr. Mohan Gupta, or Acharya Mohan Gupta as he is also known, is doing yeoman service in the second innings of his life, with his efforts to make the world healthy and medicine free. With his free of cost consultation and regular camps, he wants to take the naturopathic philosophy to every household. You can get in touch with him through e-mail at nls@naturallifestyle.in
If you too are a 2nd innings hero, you can share with us your story at: life@allaboutseniors.in
If you too are a 2nd innings hero, you can share with us your story at: life@allaboutseniors.in
#2nd Innings #theseniorhero #allaboutseniors #naturopathy #allopathy #alternative treatment #