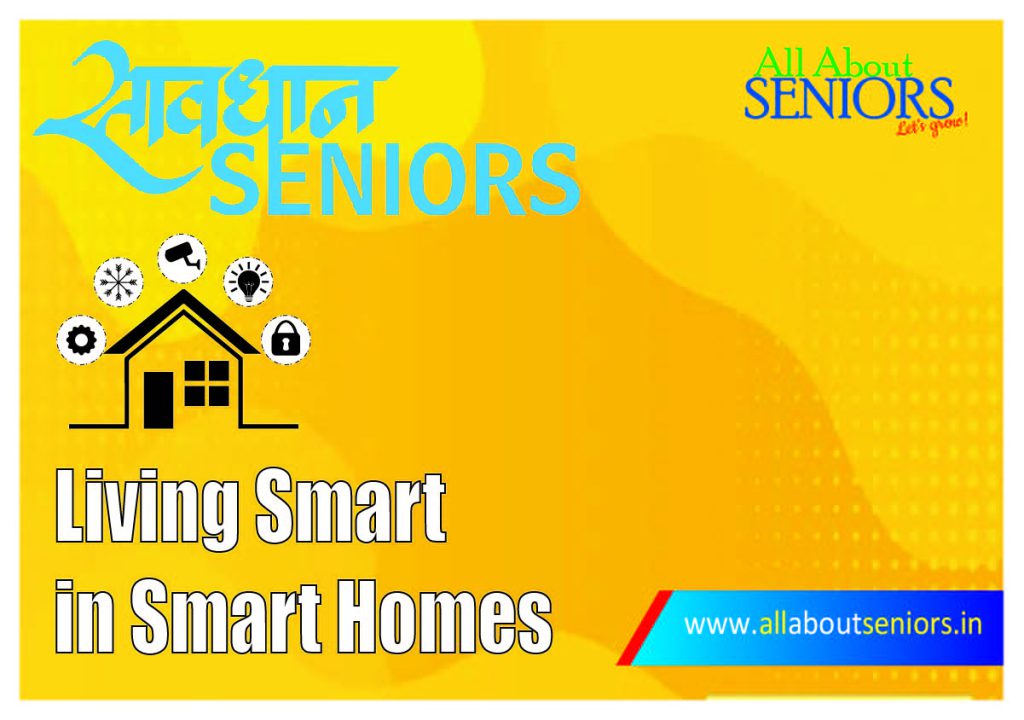 Have you ever been into a situation where you were at the airport and suddenly realize that you haven't turned off the lights , or your AC,  or you don't remember whether your doors are locked or not? I know you have been there. You try to call your neighbours or your relative to go and check that but none of them are answering. Now what would you do, would you go back to check that and let your flight fly away or carry on your trip and let the burglars have a party at your house. Major dilemma right? 
All About Seniors in this article has compiled all the essentials of home automation for independent senior living so you don't have to rely on anyone anymore for your home security.
What Is Home Automation?
Home Automation or smart homes control lightings, climate, entertainment systems, security and alarm systems of your home to provide you with an easy and comfortable living.
Smart Speakers
Smart speakers are wireless speakers that can be controlled through voice commands. With the help of smart speakers, you can also control the lights and climate of the room you are in. These start ranging from Rs. 3,000 and can be found online at any electronics website.
Smart TV
Smart TV's are traditional TV's in which you can watch your favourite shows through your setup box but also in these you can access internet. The shows or movies you watch online on your Phones, tablets or computers can also be accessed with smart TVs. Turn your living room into a complete cinema hall with the help of these super cool TV cum entertainment units.
Smart gadgets for non-smart TV's
If you've recently bought a king-size TV and cannot afford to buy a smart TV too at the same time, don't worry, we've got the solution for that too. You just need an Amazon Firestick or Google Chromecast, connect them to your TV's USB port and just sit on the sofa and operate everything with your smartphone.
Never let these points slip out of your mind while making online transactions.
Smart Plugs
A smart plug, plugs into your regular electricity wall outlet but usually comes with a corresponding app so that you can control whatever you plug into it remotely. It gives you control of all smart plugs in your house and you can perform almost everything just by sitting in your living room operating electronics with the click of a button.
Smart Doorbells
Connected to your Wi-Fi network a smart doorbell allows you to see who's on the other side of your door even when you are not at home. It notifies the Smartphone or other electronic device of the homeowner when a visitor arrives at the door. It activates when the visitor presses the button of the doorbell and lets the owner watch and talk with the visitor by using the doorbell's built-in high-definition infrared camera and microphone
You can buy this from amazon @ 5,999
Smart Switches
With the help of these smart switches you can control anything in your house. You can turn on and off your home appliances like TV, Fans, Lights or anything with the help of your smart phone.
Smart CCTV
Smart Cameras are good for houses as you can monitor your house from anywhere on this planet with your smartphone. Apart from this, it comes with a fire sensor, gas leakage sensor, Door/Window sensor, inbuilt motion detection sensor, night vision (up to 10 meters), two-way video chat with audio options and full HD (1080p) recording option.
Smart Locks
The most important home security device for seniors is the smart locks. These locks can be operated with your Smartphone just as any other smart device. No matter how far away you are from your place, it allows you to lock or unlock the doors at your place. These are usually connected with the bluetooth or internet on your device. So next time when you forget where you key is, don't worry the smart locks got your back.
Read here about more interesting home automation gadgets. 
Even the smallest and tiniest of homes can be turned into fully-functional smart homes with the help of these smart devices. You just need to relax and let the smart devices do everything for you.