"Every phase, emotion, and experience that you go through makes you a more mature and richer person."
"I have always believed that it takes a woman to make a house a home. This belief became stronger when I visited Mrs. Sheila Dikshit's home in Delhi. The spotlessly clean house looked comfortable and functional. But what struck me instantly was the warmth that it exuded; a reflection of the persona that Mrs. Dikshit is! And sure enough, a warm aura engulfed the room when the charming lady with the timeless poise herself walked in. And soon, we were in a deep and meaningful conversation with the dynamic yet humble Mrs. Dikshit. The tete-a-tete will be etched in our hearts forever."
– Mansi Sehdev, Editor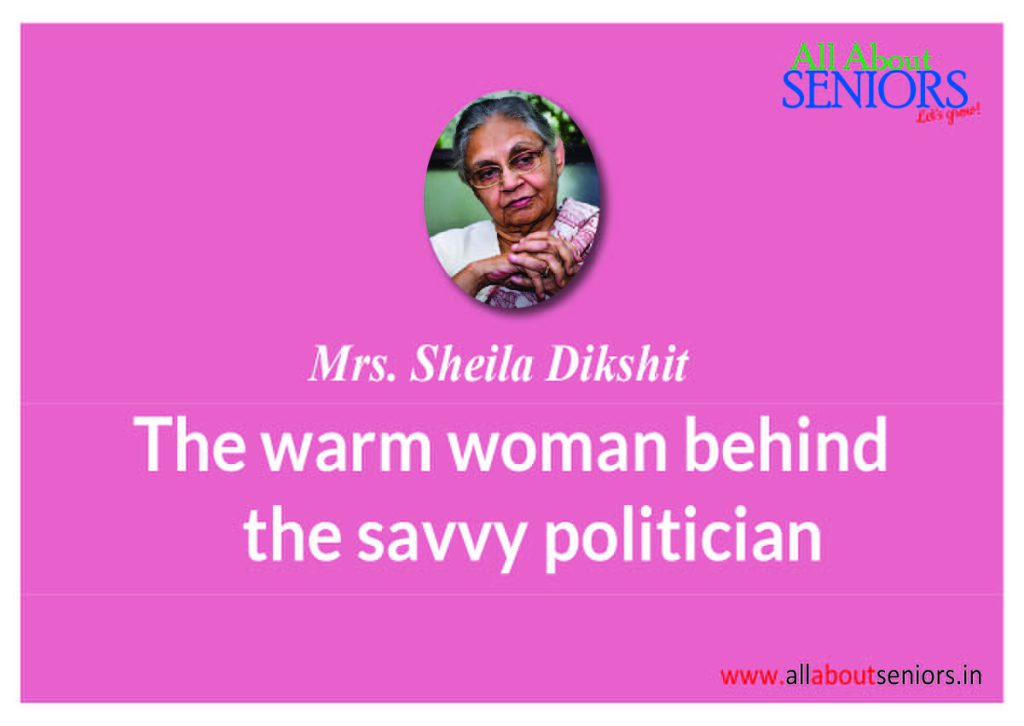 From the records of her illustrious career:
She has been a Member of Parliament, Uttar Pradesh and Member of the Legislative Assembly in Delhi
Has served as the Chief Minister of Delhi for 15 years.
Represented India on the United Nations Commission on Status of Women
Was awarded the 'Politician of the year' award by NDTV in 2009
When we think of all the strong and successful women in politics, who have contributed to the nation in their unique ways, Mrs. Sheila Dikshit would certainly come to our minds. Her journey in politics began quite late and even now, at the young age of 78, she is actively contributing to her field.
We have read about Sheila Dikshit the successful politician but how often do we come across stories about the dignified and ever graceful side of this lady? Let's read on about Mrs. Dikshit, the senior citizen with a warm heart.
Q1.What changes in the silver years make it the golden phase of one's life?
A. I believe that as we grow, emotions become more mature and laughter becomes more natural. For me, looking at the birds pecking every evening is a source of great joy. These are the little joys you don't notice when you are young. The sense of empathy and understanding comes. You feel that by saying a few words or by giving a hug, you can make all the difference to the other person.
When I was 16 years old I witnessed the first death in my family. It was an uncle who had died and I felt like it was the end of the world. I suddenly realized that death was a very painful thing to bear. But as you grow up, you take it in your stride with greater composure.
Coming across people from different strata of society gives you an insight that you begin to question a lot of things in your mind. Like, some people are so poor that they can't manage a meal and at the other end of the spectrum, are people who are so rich that they can't decide what to eat! Then you start to think about what is your barometer of happiness.
Q2. In India when people get old, they do not feel the need to get ready or to take care of themselves. What is your take on that?
A. It is not only important to look good because it makes the other person feel good, but it also makes you feel more confident. I don't say hop, skip or jump but if you walk tall, with dignity, others looking at you will feel good. You also feel confident that you are making a person think, that here is somebody who is looking so graceful. When someone compliments, it feels as good as it did when you were young.
Q3. Who inculcated these values and habits in you?
A. It was mostly my mother. She was very simple, clear and clean in her thoughts and actions. She taught us to share and to not hurt anyone. She taught us to appreciate and praise people for their good work. So, if the woman sweeping the floor did her job well, she would make sure we told her that. I believe that when you praise someone, you get a sense of satisfaction too and that, in turn, keeps your morale up.

To a large extent, my father-in-law also inculcated such values in me. He was a great freedom fighter and died at the age of 91. But even at that age, his mind was fresh. He could absorb a book, recount memories as if they were yesterday and could, at the same time, look forward.

Q4. Many seniors feel disappointed due to their dependency on others. What would you like to tell them?
A. Make your life content and fulfilling.
Be financially independent. If you have a pension, invest it in yourself.
Be on your own and start planning when you are 40-plus.
Let's live separately from our children and let's be happy so that we meet with smiles. The bottom line is happiness, contentment, and self-reliance.
If you have any ego, try and throw it out of the window. Ego causes problems, more to yourself than to others.
Read the inspiring story of an Ex Colonel who lived his dream of being an Entrepreneur after his retirement.

Q5. Any incident through which you felt that you have matured?
A. There are many such incidents. I was 47 years old when my husband died. At that time I was a minister. The light in me had gone out but I did not want to live in the darkness. I carried on with my work. My children were young and needed my attention.
At that time, if I had pitied myself then I would have been a very unhappy person. Understanding a situation, adapting and evolving is very important. Opportunities also unfold in trying times. Because of this challenge, I could become the Chief Minister of Delhi when I was 60 years old.
Q. What do you feel is the present scenario of seniors in India?
A. Seniors, especially those who do not have partners, feel a great sense of loneliness.
I also find that the connection with the next generation is not as good. Seniors are mature and have patience but the younger generation seems not to have the patience or the time for them.
I also feel that there is a slight feeling of redundancy in seniors. When the sense of belonging goes down it makes you feel depressed. When the sense of involvement is gone it creates a vacuum. If that vacuum continues, you will suffer.
This is why it is important to be dependent on yourself. Your children and grandchildren are busy building their own lives. If you become self-reliant, you would be doing yourself a big favor!
Here's the story of a 2nd innings real life hero who didn't let age harm his health.
Q. Many seniors seek solace in spirituality. Do you also believe in any teachings?
A. That has not been the case with me. I believe in action over philosophies. But yes, you do begin to take life with its ups and downs.
Earlier, I would never feel nervous in the most extreme situations. Biologically, our nervous system weakens with time. Emotionally, the younger you are, the stronger you are. I purchased my house by myself and I was confident about everything. But now, I sometimes feel what if this house would go away? What would I do then?
Q. When you were the Chief Minister, did the government take any steps for seniors?
A. We built centers where women could come to learn or teach skills like cooking, stitching, and embroidery. It helped in creating a sense of being wanted.
Q. What advice would you like to give our readers?
A. Just be happy! Don't ever think old age is a curse. It is a time for reflection and relaxation. Keep an active mind, regardless of your age.
Here's the story of the Venkateshwarans who decided to live independently and with dignity even in their 2nd innings.

Highlights:
1. One thing that I never wanted to do was cooking and I never did that!
2. You can be happy with just a chana murmura to eat and you can be very unhappy even if you have the world's best food.
3 I have seen my mother with black hair, wearing her jewelry and then, she grew gracefully into a lady with white hair. There was as much dignity and beauty in her senior hood as there was when she was younger.
4. Don't think that you know everything. There can be something to learn even from a 4- year- old.
For more encouraging and lively content about senior citizens, stay connected to All About Seniors.
#successfulwomen #Chief Minister #MemberOfParliament #theseniorhero #allaboutseniors